Net at Work Announces the Acquisition of PMO Solutions
Top Technology Advisor Bolsters its Sage Intacct and Sage 100 Businesses with the Acquisition of PMO's Exceptional Offerings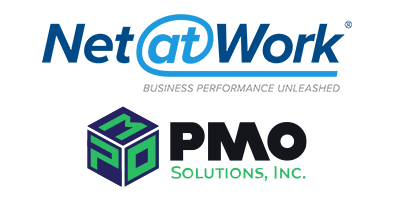 NEW YORK – October 13, 2023 – Net at Work, North America's largest provider of next-generation, digital operations platform technology solutions for small-to-medium-sized businesses, today announced that it has acquired PMO Solutions, a Newport Beach, California-based value-added reseller (VAR) of Sage Intacct and Sage 100 software. Customers of PMO Solutions will have access to the resources, solutions, and expertise of Net at Work in addition to PMO Solution's technical personnel to help support the technology needs of their organizations to effectively compete in today's digital economy.
"An exceptional customer experience is paramount to PMO Solutions," said PMO Solutions President and CEO Dr. James Ramon Gibson. "I know Net at Work holds a similar dedication to unleashing the power of their customers to change the trajectory of their business, and so it made perfect sense to unite with Net at Work."
In addition to the wealth of technology services and support available through Net at Work, PMO Solutions customers will be able to leverage Net at Work's Digital Operations Platform (DOP) approach to ensure that all aspects of their business are technologically supported to drive greater efficiency, productivity, and profitability. Coined by Forrester Research, DOP represents the next generation of ERP, as characterized by its flexible structure, Artificial Intelligence (AI) technology and accessibility for interactions beyond the browser.
"We are excited to welcome the employees and customers of PMO Solutions to the Net at Work team," said Net at Work Co-President Alexander Solomon. "As a leading technology advisor, we are in strong alignment with the clear vision PMO Solutions has for its future and are well positioned to support and evolve that vision to help employees and customers unleash their full potential."
Get to know your VAR exit strategy options with Net at Work by contacting Tom Miller, Net at Work, Mergers and Acquisitions.
About PMO Solutions
PMO Solutions was founded in 2015 to address the need for Project Management Offices (PMOs) for the Sage ecosystem. Today, in addition to PMO expertise, the company offers a full line of Sage enterprise resource planning (ERP) products including Sage X3, Sage Intacct, and Sage 100. To learn more about PMO Solutions, visit pmosolutions.com.
About Net at Work
Founded in 1996, Net at Work is one of North America's largest SMB technology advisors. Our award-winning consultancy offers a rich portfolio of next-generation technology, industry expertise, and services to help organizations derive value from the transformative benefits of technology. Through the integration of ERP, HCM, and/or CRM solutions, Net at Work builds unique, industry-specific digital operations platforms that enable companies to compete more effectively in today's digital economy. For more information, visit www.netatwork.com.
Related Blogs